Carefell Tree Surgery Saves Manpower and Improves Productivity with Ditch Witch SK755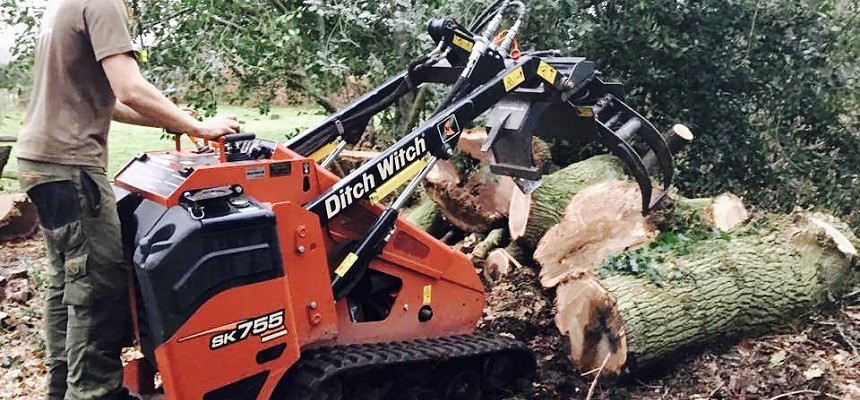 The Ditch Witch SK755 Mini Skid Steer machine is proving to be a winner for Carefell Tree Surgery where the machine is being used to tackle a variety of tasks previously undertaken by hand.
Based just outside Canterbury, Kent, Carefell is a professional arboricultural company. Services include all types of tree-care: such as thinning, crown reductions, crown lifting, topping, lopping, dismantling, felling and much more. Carefell has carried out large commercial projects and worked for clients including Haynes of Maidstone, Mercedes car dealers Vikings and the London 2012 Olympic site.
As Carefell continues to grow and take on new projects, owner and founder, Jonathan decided to actively look for solutions to his increasing onsite requirements. The need to easily and quickly move logs around the jobsite was one of his major requirements. After an evaluation, Carefell made the decision to add its first Ditch Witch Skid Steer to his fleet—a SK755.
The SK755 enables Carefell to meet their customer's demands, as it performs with exceptional speed and accuracy. The visibility and manoeuvrability of the SK755 has been helpful to the company when completing projects in tight spaces. The improved accessibility of this smaller machine offers potentially huge savings in manual labour as projects only need one operator to complete the task, thus increasing work rates and saving time and money. Another advantage of the SK755 is the ease by which it can be transported by trailer from yard to site and from site to site, due to its light weight and compact design.
This versatile machine is enhanced further by the availability of more than 60 attachments, making so many jobs straightforward. A range of attachments such as Log Grabs, Tree Stump Grinders, trenchers, ploughs, buckets, forks and many more made this the logical machine to make Carefell a highly efficient service provider and reduces the number of machines required on site. Competent counselling, professional instruction and the trained service team complement a great all-round package.
''The quality and the good price-performance ratio were awesome, the SK755 has become a necessity for all our jobsites'', said Jonathan. '' It makes the worse part of the job easy!''.
For more information on the SK755 mini skid steer, please visit http://www.ditchwitch.co.uk/products-skid-steer-machines.php.