Ditch Witch Annual International Customer Event Draws Largest Attendance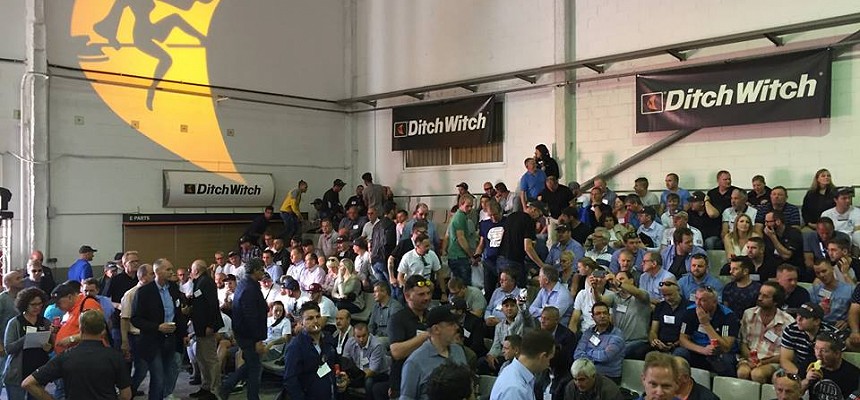 Ditch Witch hosted its 15th annual international customer event on Friday, October 27th at the Ditch Witch Barcelona Support Centre. The event set a record with over 350 customers and staff from across Europe and Middle East in attendance.
It was an all-day affair highlighted by introductions and demonstrations of new Ditch Witch trenching and trenchless equipment. The event included revealing the next generation all terrain horizontal directional drill, the AT40. There were also hands-on equipment demonstrations of a variety of Ditch Witch products, including drills, trenchers, ploughs, compact equipment, parts, as well as HammerHead® piercing tools and Subsite® Electronics technology.
Subsite Electronics technology unveiled Green Ops, an HDD process that will reduce risk and improve efficiency and profitability on HDD bores. The Green Ops process combines a more thorough investigation of the underground job site with a shift in "command" of the bore itself, immediate in-field reporting upon completion of the bore, and online access to jobsite data long after the project is done.
HammerHead introduced the new Roughneck™ R200, the first two-inch rock hammer engineered specifically for horizontal directional drilling applications. HammerHead's Roughneck line, is designed to expand the capabilities of small utility drills to effectively drill through solid rock as well as other difficult soil conditions.
Customers at the event were also treated to a mud-mixing presentation by representatives of Baroid Industrial Drilling Products, which manufactures a wide range of drilling fluid additives used in directional drilling operations.
In addition, three customer teams from Poland, Italy, and Germany competed in a drilling contest on site at the event. All teams utilised Subsite® Electronics technology TK RECON and Commander 7 Screen during the contest. As the winners, the Polish team (Patryk and Janusz) managed to hit the centre of the cone and walked away with a trophy and Ditch Witch prize pack.
The event concluded with a Gala reception and dinner where guests indulged in delicious delicacies from around the globe and heard from Ditch Witch director of sales Scott Smith, as well as international sales manager Joe Smith Jr. Visit www.ditchwitch.co.uk or any of our social media channels –Facebook, Twitter ,LinkedIn and YouTube to learn more about our latest product offerings. You can contact us at info@ditchwitch.co.uk or +44 1792 895906.