Microtrenching: An Accelerated, Cost-Effective Solution For Fibre Installation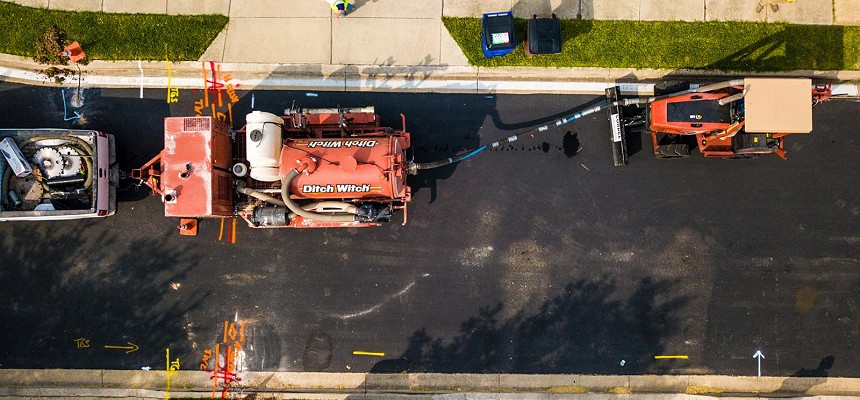 Internet users are demanding instantaneous, high-speed internet connections more than ever. Due to this growing trend, fibre installation is rapidly increasing as carriers scramble to bring fibre-optic cable connections directly to homes, businesses, government facilities and educational institutions across the country.
And as demand for these installations remains high, so does the demand for utility contractors, and their need for efficient technology and fast turnaround times on these installation jobs. Today, utility contractors are increasingly turning to microtrenching solutions for many fibre jobs, especially in congested urban environments where a less disruptive method for installation is required.
Microtrenching is paving the way as a leading, cost-effective solution for installing fibre-optic cable along paved rights-of-way. In the past, cable installation involved digging up streets or landscape to trench or bore feet into the ground, or climbing poles to string cabling above ground. Unlike traditional installation methods, microtrenching cuts a narrow, shallower trench – deep enough to get under the upper layer of solid ground, but shallow enough not to interfere with existing utilities. Microtrenchers are used in tandem with a vacuum excavation system to clean up dry spoils during the installation process. This method minimizes disruption to surrounding infrastructure, and saves contractors time and money. For example, on one project, Google Fibre cut installation time from 50 homes in one month to 50 in one day using microtrenching.
And, new Ditch Witch microtrenching systems are helping contractors reduce cost-per-foot on these jobs compared to traditional installation methods. Specifically, our new Fibre blade cleanly slices through asphalt or concrete to create the ideal trench for a fiber install in one quick, efficient pass and effectively cut around street corners.
Ditch Witch machines are part of complete microtrenching systems, available with the Ditch Witch RT55 and RT80 ride-on trenchers. For more information on fibre solutions and microtrenching equipment, please visit http://www.ditchwitch.co.uk/pr...

Article By: Steve Seabolt, Ditch Witch Product Manager, Heavy Duty Trenchers