The First Mechanised, Compact Service-line Trencher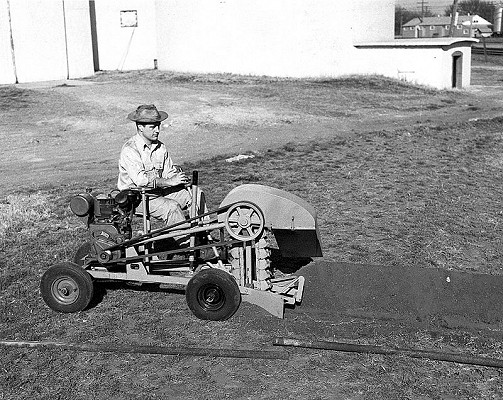 In 1902, Carl Frederick Malzahn, a German immigrant seeking to escape the harsh winters of Minnesota, moved his family to Perry, Oklahoma, and opened a blacksmith shop with his sons, Charlie and Gus. The business prospered, and several years later, with the advent of an oil boom, it became Charlie's Machine Shop, specialising in repairs for the nearby oil fields.
Young Ed Malzahn, Charlie's son, learned from his elders the process of adapting a business to meet changing demand. In the late 1940s, he began to apply his mechanical engineering degree to a device that he believed would be in great demand once it was produced.
At the time, the process of installing residential utility services—electric, gas and plumbing lines—involved slow, tedious pick-and-shovel labor. Ed Malzahn's idea was to create a compact trencher that would dramatically reduce the time and effort of this process. Working together, Ed and his father spent months in the family machine shop creating the prototype of what would be known as the DWP.
The DWP was the first mechanised, compact service-line trencher developed for laying underground water lines between the street-main and the house. This machine, first produced in 1949, replaced manual digging, thus making installation of running water and indoor plumbing affordable for the common household. The DWP paved the way for the creation of a worldwide trenching-products industry, its machines used for the installation of all underground utilities including telephone, cable-TV and data, and fibre-optic cables.
The name, DWP, stood for Ditch Witch (trencher) Power, to distinguish it from a companion machine that relied on a ratcheting, manual operation for mobility. To dig narrow trenches, the DWP used a vertical bucket line with an endless conveyor chain to carry off the spoil. A simple but very unique design, it put the endless conveyor digging chain design concept used on larger ditch digging machines into a small package. Small two-piece buckets with sharp finger-like edges were mounted on a vertical chain to gouge out chunks of dirt. The buckets were attached in sequence onto an endless moving chain that carried them down a ladder type mechanism to chew out chunks of soil, then upward to dump the "spoil" in neat piles on the ground as they began the downward descent to bring up more dirt. A 150mm wide trench with a digging depth of 760mm was the goal.
When he was 27, Ed Malzahn hand-built the first versions in the family machine shop after months of experimentation. Working together, Ed and his father Charlie produced the first production DWP trenchers in 1949. Those were the forerunners of a range of machines that now are known worldwide for durability and reliability in a large array of difficult digging jobs.
In 1955, the U.S. Patent Office issued patent No. 2,714,262 for Ed Malzahn's endless conveyor ditch digging machine. The DWP trencher's compact size and low cost opened the door for making indoor plumbing affordable worldwide. The industry has evolved from the first service-line trencher, the DWP, into today's technologically advanced equipment designed for installation of all underground utilities including telephone, cable TV, and fibre optic communication cables.
Ditch Witch remains a leader in the industry it essentially created. The company designs and manufactures a wide variety of high-quality underground construction equipment: trenchers, vibratory ploughs, horizontal directional drilling systems, drill pipe, downhole tools, vacuum excavation systems, fluid management systems, and mini skid steers, all bearing the Ditch Witch name.