Renewal of Yorkshire Water Mains Using Trenchless Technologies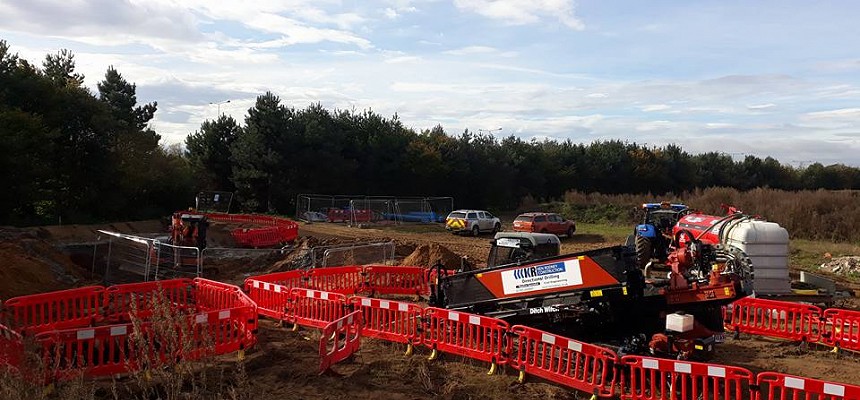 Yorkshire Water recently completed a £13 million lead pipe replacement project in Bradford, Rotherham, York, Leeds, Beverley, Harrogate and Hull. The upgrade work was completed by the end 2017 and will benefit 20,000 homes across the region.
Yorkshire Water & Principle contractor, Morrison Utilities turned to Ken Rodney construction to focus on the replacement of lead water pipes that date back to the Victorian era. Historically lead pipework was used to connect properties to the water mains. Today, it is widely recognised that exposure to lead should be minimised for health reasons. Therefore, they were all replaced with Polyethylene plastic pipes to ensure that lead content is kept to a minimum and meets water quality regulations.
Ken Rodney Construction, specialists in Pipeline and Civil works, used the technologies of horizontal directional drilling (HDD) to limit surface damage and interruption of routine activities along the A63, a major road in Yorkshire, between Leeds and Kingston upon Hull. Using these trenchless methods on this segment of the project allows aging water mains to be replaced while greatly limiting the amount of excavation needed to bury pipes.
Jason Burford and Joe Wilton – his right-hand man - operated the all new Ditch Witch® JT40 directional drill on the project. The 160-horsepower JT40 machine develops 40,000 pounds of pullback force and has a rotary torque of 5,500 foot pounds. The compact, yet powerful machine reduces jobsite footprint and has increased pipe-rack capacity compared to previous models, for enhanced productivity.
Ken Rodney Construction completed 2 x 120 metre shots, at a depth of 5 metres below the surface, each large enough to house a 560mm pipe using HDD installation method.
The A63 South Cave project was successfully completed within 14 days, after 30 days of monitoring prior to the commencement of works and a further 20 days after completion of drilling.
The use of HDD installation methods is becoming an ever more popular requirement due to the many advantages that it offers over older traditional installation methods, with very low environmental impact, substantially cheaper re-instatement costs and little to no impact to the community and traffic in the immediate job site surroundings.
For more information, please visit http://www.ditchwitch.co.uk/directional-drill.php?s=jt40-directional-drill