Thank you for visiting our stand at the ArbShow 2018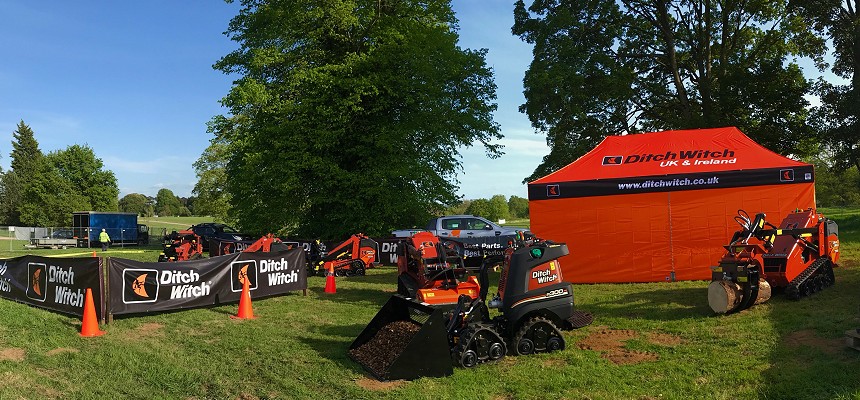 On the year that it celebrated its 20th anniversary, the ARB Show fittingly broke attendance records again and marked the occasion with a feast of activities for all ages and interests.
In total 8362 arborists and members of the public keen to learn more about the industry and the science of trees passed through the gates. The figures only told part of the story though, as the special anniversary event attracted interest from media and government on top of its growing core of arborists. Representatives from DEFRA were in attendance and on Friday Conservative MEP Ashley Fox visited the Arboricultural Association, while David Drew Shadow Minister for the Environment, Food and Rural Affairs attended on Saturday. Dr Drew, the MP for Stroud, met with AA Chief Executive Stewart Wardrop and Chairman Keith Sacre to find out more about the issues facing our industry.
Ditch Witch UK & Ireland showcased its family of mini skid steers. Show attendees had the pleasure of demonstrating the full line, including the most powerful Mini Skid in the industry - SK1550 and were able to realise the full benefits of the customer-driven enhancements to make green industry professionals productive and profitable on a variety of small to complex landscape, hardscape and arboricultural jobs.
In addition to the mini skid steers, the Ditch Witch Zahn R300 Tool-Carrier turned heads. The innovative design of the Zahn R300 tool carrier means you don't have to sacrifice power for versatility. With both the high- and low-lift models, you'll get maximum productivity from the dozens of available quick-change compact utility attachments.
The show was a great success for Ditch Witch UK & Ireland and it was a pleasure to meet you personally, giving us the opportunity to showcase our range of mini skid steers and various attachments that were on display.
If you have any questions regarding the show, our company or our equipment please do not hesitate to CONTACT US
It's exciting to see such a growing interest for our Mini Skid Steer Range and we look forward to seeing you at the next show.
Visitor comments:
"Great ARB Show today; it's all about trees and some serious kit!"
"Such a brilliant day at the ARB Show. First time going and I loved it, so much going on and a great day to catch up with friends."
"Had an absolutely brilliant day at the ARB Show."
"What a great weekend at the ARB Show. It was nice to see everyone and buy new toys."
''Brilliant day loads to see had a really good time. Well laid out and lot of stands showing most if not all aspects of tree surgery and arboriculture. Lots to see loads to help improve my company on ideas and dreams.''
Visitor Statistics
8362 Visitors (Up 22% on 2017)
Friday - 4034 visitors
Saturday - 4328 visitors