PBU Tackles Trenchless Tasks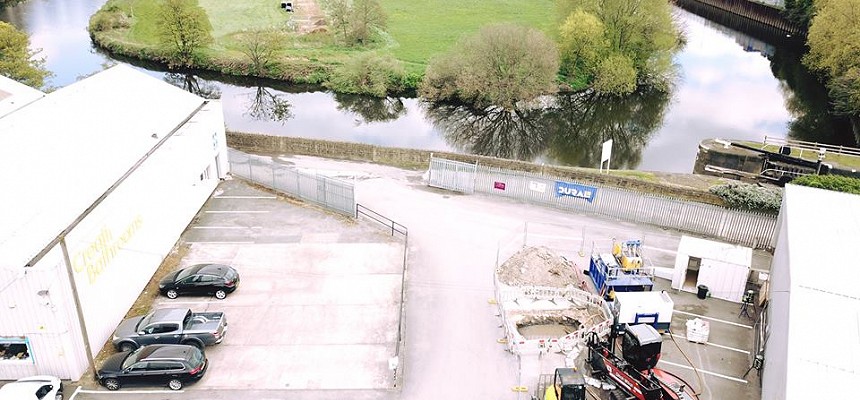 Located in Stockton-on-Tees, PBU (UK) Ltd. provides a wide range of utilities, civil engineering and directional drilling throughout the UK and Internationally. As the company continues to expand and take on new projects, it often evaluates its fleet, looking for ways to keep up with equipment advancements and improve return on jobs. PBU made the decision early this year to add the revolutionary Ditch Witch AT40 All Terrain Directional Drill to their fleet.
"It's the first one in the UK," explained Garry Plaskett – Senior Contracts Manager with PBU (UK) Ltd. as it pulled back a Kodiak reamer beneath the River Calder as part of the pre-reaming process which would eventually aid the installation of a series of ducts for main contractor Balfour Beatty.
"The drill is designed with an advanced, two-pipe drilling system which increases power and productivity when drilling and steering in hard rock conditions," Garry added. "The AT40 kicks out 33 percent more torque than the competition for optimal downhole power." The first thing that hits you is the aesthetics of the rig. The machine's design is extremely low profile, stylish and smooth, yet it's equipped with a 160HP diesel engine which knocks out over 18 Tonne of thrust and pullback.
PBU's project consisted of two 120meter long shots – each shot comprising three 180mm SDR11 electric ducts and one 110mm electric duct, and from within an extremely tight location in a small retail park off the A636 Denby Dale Road in Wakefield. "The cable is a 132kv Double Circuit - one cable in each of the 180mm ducts and one pilot cable in each of the 110mm ducts."
The specialist at PBU carefully navigated both bores 3m apart from each other and to depths of 10m to get below the bed of the river, which at that point was around 3.5m in depth. "The inner pipe works as a mechanical motor, driving the bit during the bore, and the outer pipe thrusts the bit forward while steering the drill shaft," added Garry regarding the drilling process. "And during back reaming, the outer pipe transmits full machine torque downhole."
Another factor contributing to the project was their DupagroMR3E mud mixing system with a mix consisting of Easy Mud Gold (Polymer), Hydraul-ez (Bentonite) – which a specially treated bentonite drilling fluid designed for directional drilling that suspends cuttings and maintains borehole integrity, Condet E and RPR052.
All Terrain technology on the rig enables enhanced rock drilling at a low fluid level, decreasing overall jobsite waste therefore reducing environmental impact and it comes equipped with a 70-gpm, 1,100-psi mud pump, meaning it has increased fluid course from the mud pump to the swivel, for more downhole flow capabilities."