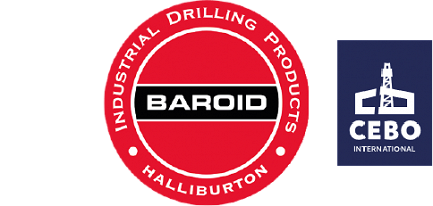 CEBO INTERNATIONAL / BAROID (IDP)
For more than 40 years, Cebo International has been a major supplier of industrial minerals and services to a variety of Industries such as: Energy, Construction, Agriculture and many more. Products and Services supplied by Cebo are designed to deliver exceptional high quality whilst meeting our customers specific needs.

Cebo International is master distributor of Baroid IDP (Industrial Drilling Products) for the European and Eastern region.
Baroid IDP was one of the first drilling fluid companies to apply its vast knowledge to the industrial drilling industry. Backed by the strength of a worldwide distribution network, extensive quality control from mine site to packaging and a research and development laboratory, Baroid IDP is a manufacturer and supplier, dedicated to surpassing customers' expectations and ensuring their needs are met.
The comprehensive Baroid IDP product line guarantees improved drilling performance and superior expertise in wellsite servicing.
Baroid Industrial Drilling Products
Performance Products and Comprehensive Services for Industrial Drilling Applications Providing Engineered Fluid Solutions Customized to Maximize Wellbore Value.
Baroid Industrial Drilling Products, is a worldwide network of sales and service engineers, laboratory scientists, and support personnel dedicated to servicing all facets of the industrial drilling industries.
Since the 1950s and our beginnings in the water well drilling industry, products and services have been expanded to include all types of drilling. Baroid Industrial Drilling Products now supplies a comprehensive line of drilling, grouting, plugging, abandonment, and well rehabilitation and development products specifically engineered to optimize performance and end-user costs.
Backed by the strength of Halliburton's worldwide distribution system and Baroid Industrial Drilling Products Retailer networks, extensive quality control from mine site to the package, and a dedicated research and development laboratory, Baroid Industrial Drilling Products is a manufacturer and supplier dedicated to surpassing customers' needs. The comprehensive Baroid IDP product line, coupled with the concept of Engineered Fluid Solutions for each and every drilling situation, guarantees improved drilling performance and superior expertise in well site service.
Importance of using high quality HDD Drilling Fluid
To ensure you maximise in the life of your Downhole Tooling, high quality drilling fluids must be used. Drilling fluid is composed of a carrier fluid (water) and drilling fluid additives (bentonite and/or polymers). The most widely used drilling fluids for HDD applications are based on bentonite. Bentonite is a naturally occurring clay mineral (montmorillinite) that forms a mud when mixed with water.
Cools downhole tools and equipment
Lubricates to reduce friction between the drill pipe / product & the bore wall
Cleans off build-up on drill bits & reamer cutters
Stabilizes and seals the sides of the borehole
Carries the cuttings out of the hole
The following factors must be considered:
Viscosity

Viscosity is the resistance of a fluid to flow. Maintaining the proper flow is imperative to successful HDD drilling.

Gel Strength

Gel Strength is the ability of the drilling fluid to support, suspend and carry cuttings. If proper suspension is not maintained, the cuttings will quickly collect around the drill pipe or product line being pulled. This could cause a loss of circulation and a build up of pressure, resulting in a 'frac out' and possible loss of the tool.

Low Fluid Loss

Fluid Loss is the measurement of filtrate (free water) passing from the drilling fluid into a porous permeable formation. Low Fluid Loss is a characteristic of good drilling fluids and the key to borehole integrity. The goal of a good drilling fluid is to create a thin filter cake on the sides of the borehole. This prevents the excessive loss of fluids into the formation.

pH

The pH is an expression of the acidity or alkalinity of a solution measured between 0 and 14 with 7 being neutral. It is critical to maintain the proper pH of drilling fluids to ensure optimal performance. In HDD projects pH should be maintained between 8 and 9. Soda Ash is the simplest means of raising the pH level.
Mud Testing Equipment Kit
Includes:
4-Scale Metal Mud Balance
Sand Content Kit
Marsh Funnel Viscometer & Cup
pH Testing Strips
Stopwatch
Sand Content Kit
Determines the volume percent of sand-sized particles in the drilling fluid It is important to know the sand content of drilling muds because excessive sand may result in the deposition of a thick filter cake on the wall of the hole. High sand content may also cause excessive abrasion affecting pump parts and pipe connections. Sand sized particles are defined as anything larger than 74 microns. This test can be performed on low solids muds as well as on weighed muds.
Marsh Funnel Viscometer
Used for routine quick measurements of fluid viscosity The Marsh Funnel Viscometer is an excellent indicator of changes in drilling fluid properties. Viscosity is a measurement of a fluid's resistance to flow: the greater the resistance, the higher the viscosity. As measured by the Marsh Funnel, the viscosity of the fluid is influenced by the density of the fluid (solids content) and gelation rate (beneficiated solids content). The viscosity of the drilling fluid in use should be based on a combination of the following parameters: drilling rate, pump and output capacity, mud density, cutting size, hole size and solids removal equipment.
HDD Thermal Grouting Products
Cebo Conduct-Gel is composed of a specially selected Bentonite/graphite mixture and is a unique, all-in-one solution for promoting efficient heat transfer from power cables to the surrounding soil.
Cebo Conduct-Gel is a non-hardening suspension and therefore easy to remove after a certain period of time, if required. The product is cement-free and provides high flowability over long distances.
Ditch Witch UK & Ireland offer the following Conduct-Gels:
Cebo Conduct-Gel 1.0
Cebo Conduct-Gel 1.3
Cebo Conduct-Gel 1.5
Cebo Conduct-Gel 2.0
Cebo Conduct-Gel 2.5