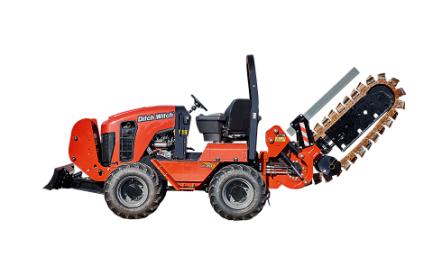 Powered by a 72-hp Yanmar® Tier 4 Stage V-Compliant diesel engine, the RT70 is built for heavy-duty trenching, plowing and microtrenching jobs with tight fits and even tighter schedules.
Basic Specifications
Engine: 72hp Yanmar Diesel
Compatible Trenchers
MT12 Microtrencher - Depth: 165-318mm, Width:13-50.8mm
MT16 Microtrencher - Depth: 0-406mm, Width: 13-50.8mm
CT70 Trencher - Max Depth: 1461mm (Tracks), 1549mm (Tyres), Max Width: 305mm
ST70 Trencher - Max Depth: 1521mm (Tracks), 1621mm (Tyres), Max Width: 305mm
VP70 Vibratory Plough
Cover Depth (Max.): 914mm
Attachments

Centreline and Offset Trenchers
Vibratory Plough
Micro-Trencher
Backhoe
Back Fill Blade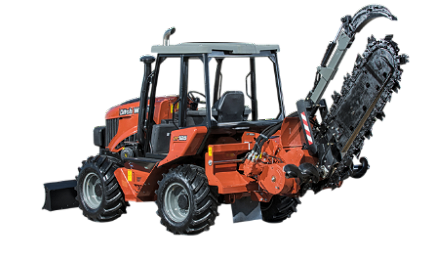 Versatility plus comfort equals productivity. As the most versatile member of the best-selling trencher family in the world, the Ditch Witch RT125 utility tractor can help you be more do more on every jobsite. A powerful and efficient 121-hp (90-kW) Tier 4 Deutz® diesel engine keeps the RT125 running strong all day long, while a wide range of attachments—trencher, plow, earth saw, backhoe, reel carrier, and trencher/plow combo—lets you tackle just about any job. It's the go-to machine you'll depend on.
Basic Specifications
121-hp (90-kW) turbocharged Tier 4 Deutz diesel
Trencher
Width: 610mm
Depth: 2.5 metres
Vibratory Plough
Diameter (Max.):
Depth (Max.):
Rockwheel
Width: 115 to 203mm
Depth (Max.): 1 metre
Attachments

Centreline and Traversing Trenchers
Vibratory Plough
Combo (Trencher/Plough)
Backhoe
Reel Carrier
Rockwheel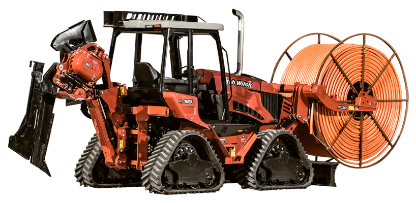 Nothing lets you tackle more types of terrain than the extraordinarily productive, powerful and stable RT125 Quad. Its massive undercarriage, superior Quad Track System and three-speed, shift-on-the-fly transmission combine to handle whatever the jobsite throws at you. Its newly redesigned operator's station, with comfort features including an ergonomic, swivel operator seat and controls console, and increased legroom, keeps you more productive. With the RT125 Quad, nothing slows you down.
Basic Specifications
Engine: 121hp Turbo-Charged Deutz Diesel
Trencher
Width: 610mm
Depth: 2.3 metres
Vibratory Plough
Diameter (Max.):
Depth (Max.): 1.06 metres
Backhoe
Width: 300- 610mm
Bucket Depth (Max.): 2.7 metre
Attachments

Centreline and Traversing Trenchers
Vibratory Plough
Combo (Trencher/Plough)
Rockwheel
Top Cutter
Backhoe
Reel Carrier