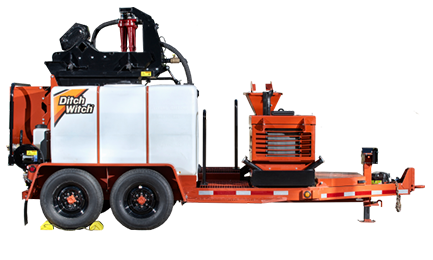 By reclaiming, recycling and reusing drilling mud, you retian profits that others are literally throwing away. You'll profit even more with the Ditch Witch MR90, the most advanced, most productive mud recycler on the market. The MR90 can mix and recycle drilling mud as well as handle spoils, for exceptionally cost effective production. Among its many exclusively cost efficient features, it has a Two-screen system plus Six, 2.5" hydrocyclones produce extra clean mud for reuse and it's the only mud recycler you can transport full of fluid.
Basic Specifications
Engine: 24.8hp Kubota
Recycle Flow Rate: 90gpm Max.
Supply to Drill: 225gpm Max.
Tank Capacity (Dirty Side): 340 gall.
Tank Capacity (Clean Side): 110 gall.
Water Tank: 300 gall.